Whether salvaging or recycling, all up-cycling activities benefit the environment by reducing landfill. And since these seven found objects are one-of-a-kind, they ensure that your landscape will not look like your neighbors
1 Coke Bottle Landscape
Think Coke bottles have an attractive, iconic design? So did we, when we sculpted the edges of a pathway and patio with them. Interspersed with stone, the bottles capture the light and turn ordinary into extraordinary.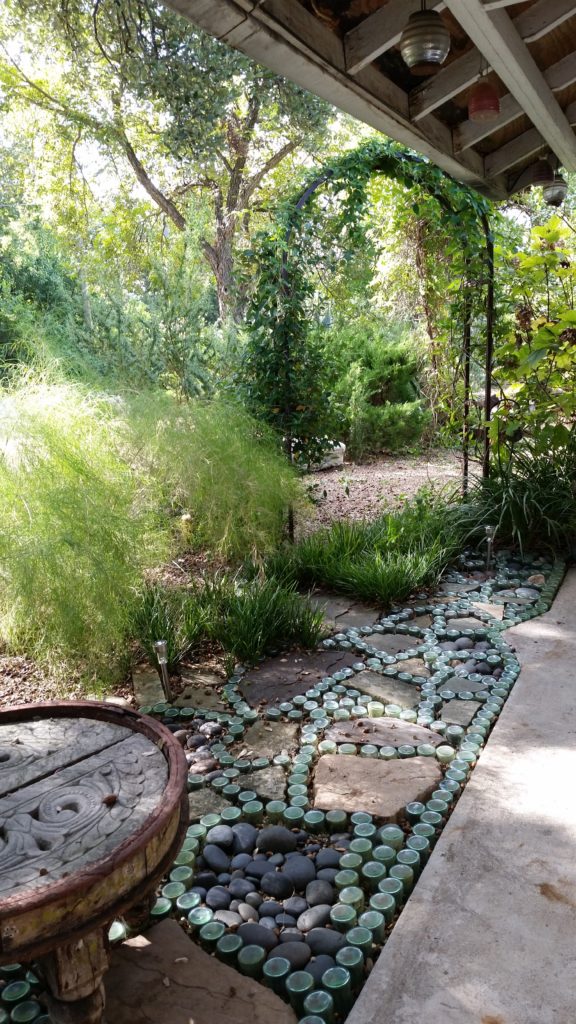 2 Pallet garden
Discarded shipping pallets make stunning vertical gardens that will adorn an ugly wall or keep your delicate herbs out of the pet's path. Back the pallet with roofing or landscaping paper and chicken wire and plant with the garden of your choice – ornamentals, herbs, or succulents.
3 Playful reclaimed planters
Water troughs, wheelbarrows, coffee cans, watering cans, are just a few of ideas for creating an eye-catching reclaimed planter.
4 Old doors and windows
An old door becomes a potting bench, a gate, or a privacy screen with a little elbow grease and imagination. Windows can become greenhouses or transparent screens. The beauty of both comes from the patina of age, which develops over years or use.
5 Urbanite
Urbanite is made from broken pieces of concrete, frequently the remains of a demolition. Resembling flagstone, it is becoming an increasing popular in the creation of patios, pathways and retaining walls. It can be stained to create unique look and at a price of free from demolition sites, it is a worthy consideration.
6 Rustic recycled fence
Crafting a fence of recycled materials adds character to the front or side of your property where privacy is needed. Using salvaged barnwood or other reclaimed wood adds instant warmth. Select recycled corrugated tin to create a rustic feeling.
7 Reclaimed brick, stone and timber
Anywhere you wish to install a one-of-a-kind patio or pathway, consider reclaimed brick, stone or timber. Any type of wood can be used to create a boardwalk in your backyard. a brick pathway or cobblestone trim made of reclaimed materials will also add instant well-worn charm to your garden.